Principal Investigator
Dr. Elsik's research is focused in three areas centered around molecular evolution. First, genome sequence analysis and annotation: applying concepts of molecular evolution to infer function, as well as using bioinformatics approaches to understand genome evolution. Second, the development of statistical models and algorithms to better classify proteins, which in turn serve serve as tools for molecular evolution and annotation. And third, the development of databases that allow others to benefit from ours and the work of a very active research community engaged in genome analysis and annotation.
Education
B.S. Biochemistry, Virginia Tech
M.S. Forestry, Texas A&M University
Ph.D. Genetics, Texas A&M University
Alfred P. Sloan Foundation/Department of Energy Postdoctoral Fellowship in Computational Molecular Biology, University of Virginia
Appointments
Professor, Division of Animal Sciences, Division of Plant Science & Technology, MU Institute for Data Science and Informatics, University of Missouri-Columbia, 2019-present
Associate Professor, Divisions of Animal & Plant Sciences and MU Informatics Institute, University of Missouri-Columbia, 2012-2019
Associate Professor, Computer Science Department, Georgetown University , 2011-2012
Associate Professor, Biology Department, Georgetown University, 2010-2012
Assistant Professor, Biology Department, Georgetown University, 2007-2010 
Assistant Professor, Animal Science Department, Texas A&M University, 2002-2007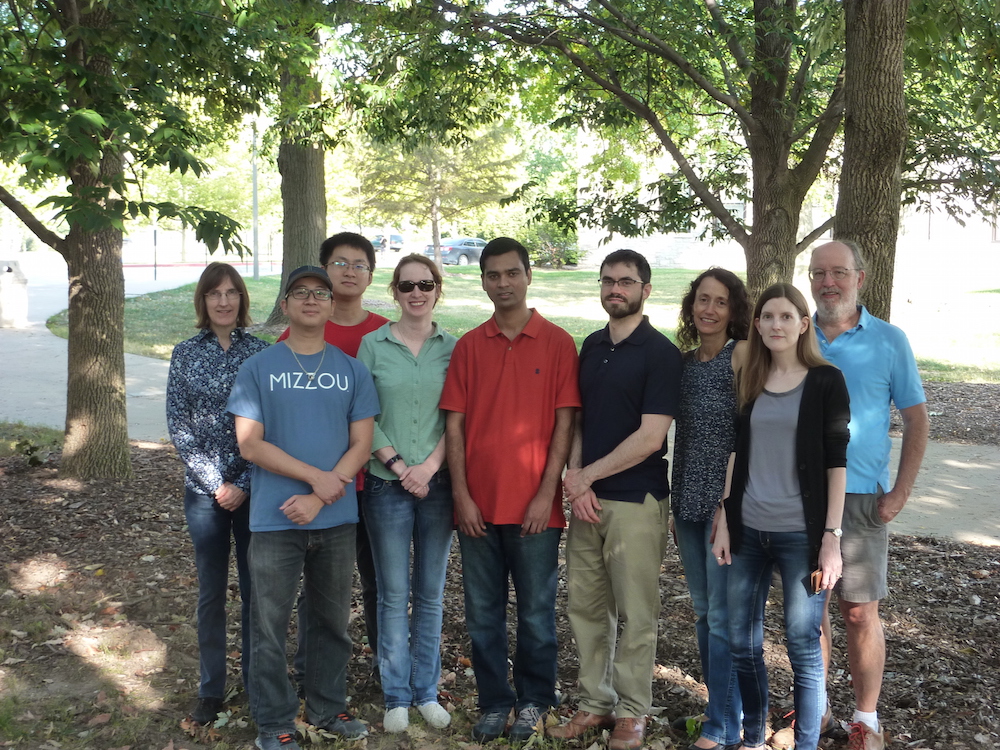 Research Scientists
Jack Gardiner joined the Elsik lab in 2016 as a Research Scientist. He earned a B.S. in Biochemistry, an M.S. in Biology, and a Ph.D. in Genetics from the University of Missouri-Columbia, and he was an NIH Postdoctoral Fellow in the Department of Biology at the University of Iowa. His research focuses on Zea mays (maize) genetics and genomics.
Prior to joining Elsik lab, Dr. Gardiner worked in a wide range of capacities from field and laboratory researcher, to NSF project manager. In 2010 he began working for MaizeGDB, the maize genetics and genomics database, as a biocurator with an emphasis in gene expression and epigenetic data. Currently, he is a Biological Data Curator for MaizeMine, MaizeGDB's data mining warehouse, which enables researchers without scripting skills to integrate their data with publicly available data and perform meta-analysis. His role is to identify and recruit high value maize data sets for MaizeMine that best serves the maize research community.
Deborah Triant has been working as a Bioinformatics Research Scientist since joining the lab in 2018. Her background is in wildlife genetics, including both laboratory and field research, with an emphasis on mammalian and insect genomics. In the lab, she assists with data analysis and database testing.
Lead Programmer
Amy Walsh joined the Elsik Lab in 2019 and works as a developer for the databases and websites in addition to performing system administration tasks. She graduated from James Madison University with a B.S. in Computer Science and Mathematics and earned an M.S. in Computer Science and a Ph.D. in Mathematics from the University of Connecticut. Prior to joining the lab, she worked as an Applied Research Mathematician for the Department of Defense and a Database Programmer/Analyst for the Missouri Transect project at the University of Missouri.
Graduate Students
Hung Nguyen joined the Elsik lab in 2015 as a doctoral student in Bioinformatics. His research interests are the characteristics and evolution of the bee's genome. Hung earned a B.S. in Crop Science from the Vietnam National University of Agriculture.
Former Lab Members
Staff
Christopher Childers
Kevin Childs
Colin Diesh
Darren Hagen
Justin Le Tourneau
Natalia Milshina
Monica Munoz-Torres
R. Shreyas Murthi
Monica Poelchau
Justin Reese
Christina Roberts
Md Shamimuzzaman
Jaideep Sundaram
Aditi Tayal
Deepak Unni
Donald Vile
Graduate Students
Juan Anzola
Kyounghwa Bae
Anna Bennett
C. Michael Dickens
Marianne Emery
Libing (Steve) Shen
Shu Tao
Anand Venkatraman
Zixiao Zhao
Undergraduate Students
Genevieve Brandt
Micah Fletcher
Katharina Frank
Catherine Jamis
Sari Khalil
Teni Ogunsan
Jack Schoelz